Games with Gold: The latest Xbox One and 360 free deals for May – Mirror.co.uk
Each month, Microsoft makes two games free for Xbox Live Gold members to download for a limited time on both the Xbox One and Xbox 360 .
Since November 2015 the two free Xbox 360 games have also been backwards compatible with the Xbox One, meaning owners of Microsoft's latest console can effectively get four free games a month.
The games are yours to keep even if you drop your Xbox Live Gold subscription.
Below are the free Xbox Live Games With Gold for this month and don't forget to check out our Xbox deals page for the up-to-date console prices.
Xbox One
Defense Grid 2: 1 May – 31 May
A tower defense game set in space, this Kickstarter title was well received when it hit consoles back in 2014.
Read more: id Software tease backstory for Doom single player
Sunset Overdrive: 16 April – 15 May
Insomniac Games' Xbox One exclusive open-world action adventure is lauded for its eye catching art and level design.
After a new energy drink causes the inhabitants of Sunset City to mutate into horrible creatures, you're tasked with cleansing the futuristic metropolis of the scourge using a bunch of eclectic weapons and OTT parkour moves.
Read more: Sunset Overdrive review
Costume Quest 2: 16 May – 15 June
This sequel to Double Fine's adorable RPG adventure is even more charming than the original. Playing as twins Wren and Reynold, it's up to you to save Halloween from an evil villain (although you'd think evil villains would LOVE Halloween).
The combat is turn-based but relies on timing (similar to South Park: The Stick of Truth) which makes it fairly accessible if you're not usually into that style of gameplay.
Read more: Costume Quest 2 review
Xbox 360
GRID 2: 1 May – 15 May
Codemasters do what they do best in this racer released in 2013. The developer introduced a new handling system called TrueFeel that aimed to tread the line between simulation and accessibility, and the game features vehicles from across a 40-year period.
Peggle: 16 May – 31 May
PopCap's cute but addictive game was a perfect fit for Xbox Live Arcade when it made the jump to consoles. The simple premise – launch balls at 'pegs' to erase them from the screen – becomes increasingly fiendish with intricate levels and fun powers to use. It's a game full of personality, and the soothing music will make the hours seem like minutes.
If you haven't caught Peggle Fever yet, just see how excited the gentleman below was to announce the sequel.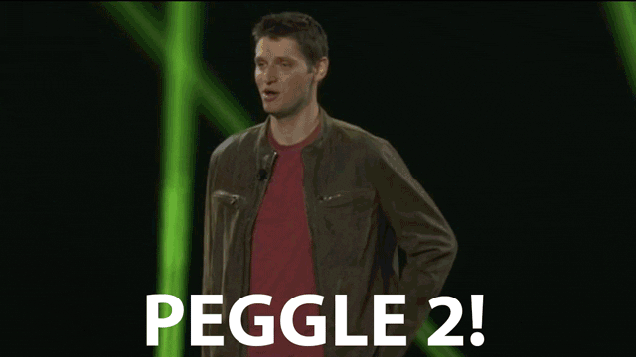 How to get free Xbox Live Games With Gold
Firstly, you'll need to be a Gold member of Xbox Live. This means having a paid subscription.
People using a trial membership will not have access, and Silver tier members will not be eligible even during a 'free Gold' weekend.
There will usually be a Games With Gold tile on the Home screen of the Xbox console dashboard that will take you directly to the free games.
If not, head to the 'Store' tab on Xbox One or the 'Games' tab on Xbox 360.
You can also use the Xbox website. Log in using your account details and head to the Games With Gold page .
Once you've clicked 'purchase', the free game will be added to your console's download queue the next time you turn it on or, if you have your Xbox One set to 'Instant-On' mode, it will begin downloading immediately.
CommentsWrite a Reply or Comment:
You must be logged in to post a comment.