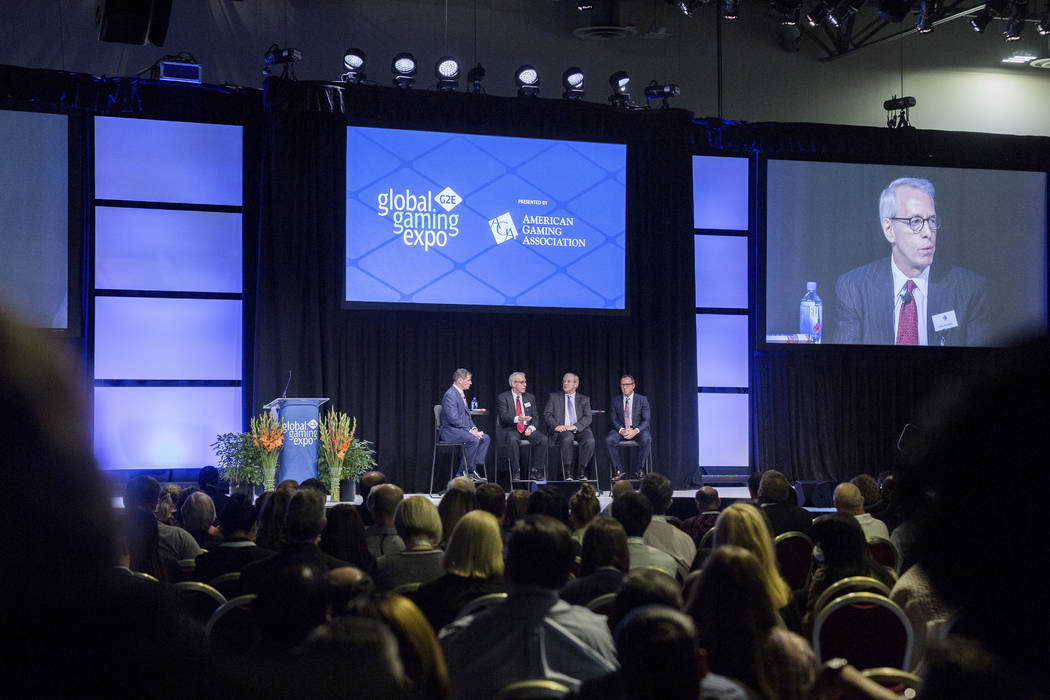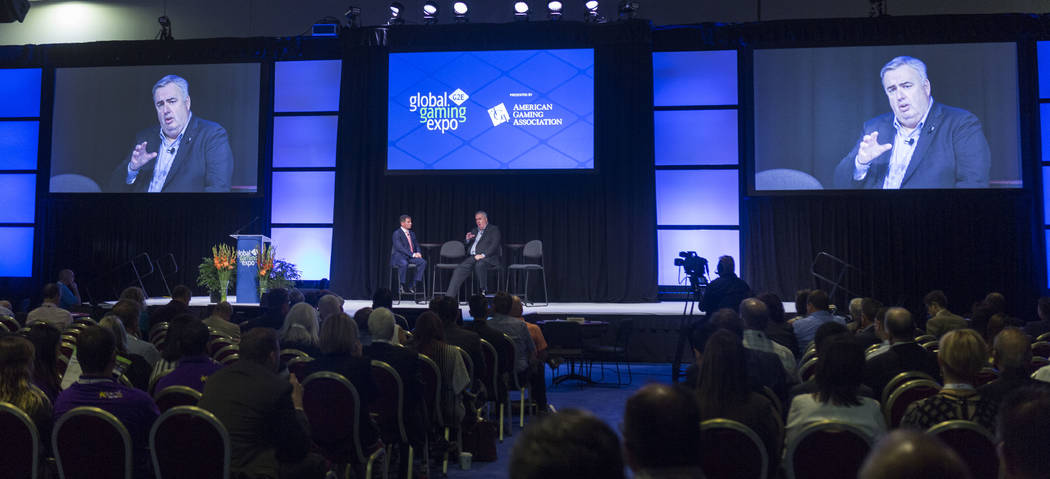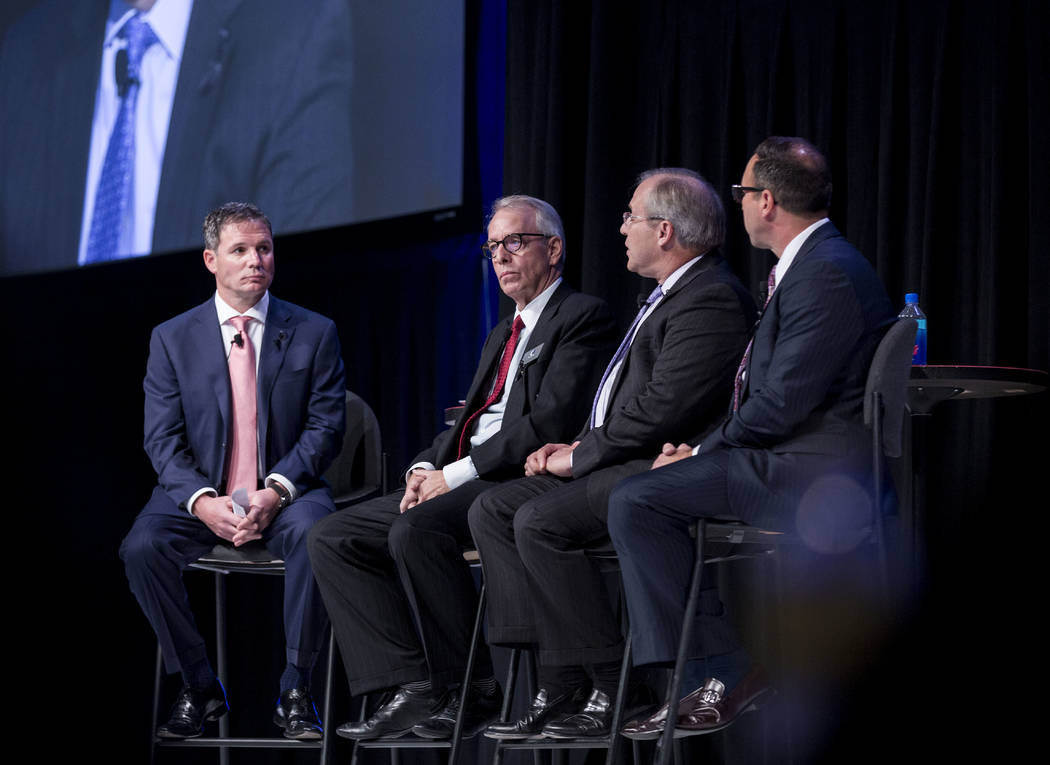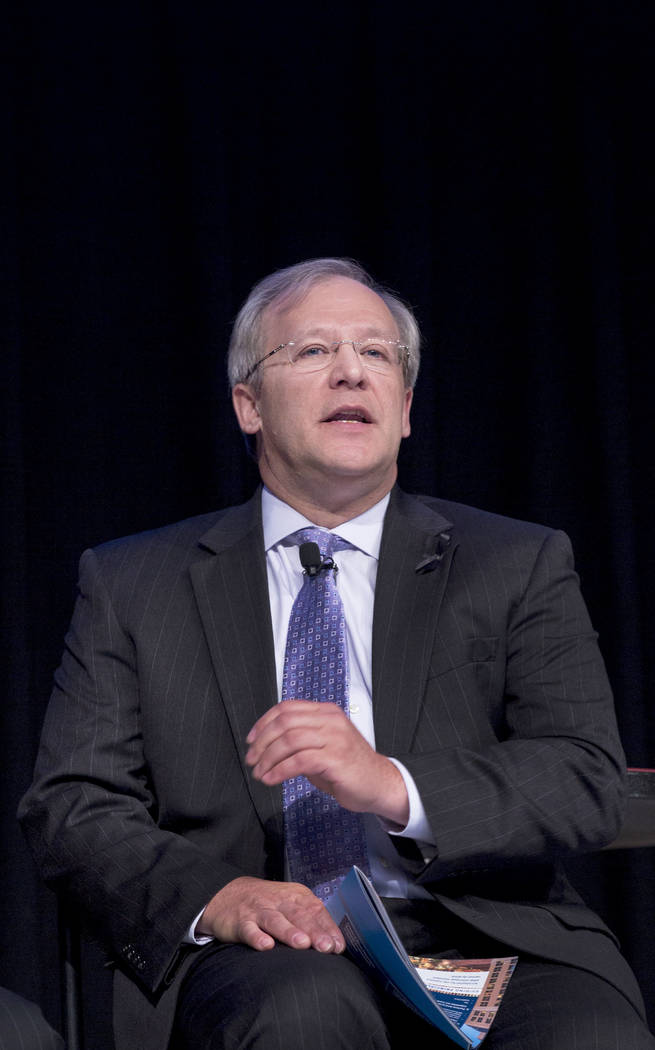 The head of the American Gaming Association used a sports metaphor — "Let's play offense" — to unveil the organization's strategic plan, which includes a bid to expand sports betting nationwide, at Tuesday's opening session of the three-day Global Gaming Expo.
About 26,000 gaming industry professionals are gathering at the Sands Expo and Convention Center for more than 100 educational seminars, panels and presentations and to see thousands of new slot machines and casino equipment at what's billed as the world's largest gaming gathering.
Geoff Freeman, the association's president and CEO, deviated from his planned "state of the industry" address to yield the moment and instead remember people who died and were hurt by a sniper who fired on a country music festival with high-caliber weapons.
But Freeman got back to business with a panel discussion that included the association's introduction of "Strategic Plan 2020," which explains how it will work toward legislation that would help the industry, including efforts to repeal the Professional and Amateur Sports Protection Act that prohibits sports wagering on individual games in every state but Nevada.
The American Gaming Association was formed to lobby against legislative proposals that would harm the industry. But Freeman said the AGA is now poised to do more than that.
"We're not just playing defense in Washington. Let's go play offense. Let's go make some really good things happen," he said.
Part of that offense has been leading efforts to enable nationwide sportsbook wagering, a process that could be boosted by a U.S. Supreme Court review of a New Jersey court case.
"Sports is a tremendous opportunity that I'm not sure everyone in the room realizes just how close it is," Freeman said.
He added that the court is expected to review New Jersey's suit against the National Collegiate Athletic Association in November or December and issue a ruling by spring.
"To have sports wagering throughout the United States gives us the same opportunity that lotteries were able to avail themselves of years ago by taking the numbers racket — the illegal lottery operations — from underground and bringing it above ground and make it into state revenues," said panelist Michael Rumbolz, president and CEO of equipment manufacturer Everi and a former State Gaming Control Board chairman.
"If we bring sports wagering into the regulated casino gaming environment, whether it be physical, online or both, those revenues from underground maybe will begin surfacing, and you'll see local jurisdictions getting the benefit of the taxes and the jobs that will be created through that," Rumbolz said.
Another offensive stance the association may consider is lobbying to raise the dollar threshold Internal Revenue Service regulations list for slot-machine payouts.
"It's currently at $1,200," Freeman said. "Adjusted for inflation, we should be closer to $5,000. If you adjust it to $2,500, you account for more than 90 percent of all jackpots. That, to me, is a great opportunity to go on offense."
Panelist Robert McGhee, vice chairman of the Poarch Band of Creek Indians, said an offensive stance is what helped his tribe develop its Wind Creek Casino in southern Alabama.
McGhee said there was little support for the casino until he brought local government leaders to realize the region's development potential. He said what once was a single hotel-casino with a gasoline station operated by the tribe at an interstate highway exit grew to five hotels with eight new fast-food franchises and all the jobs that came with them.
The Review-Journal is owned by the family of Las Vegas Sands Corp. Chairman Sheldon Adelson.
Contact Richard N. Velotta at rvelotta@reviewjournal.com or 702-477-3893. Follow @RickVelotta on Twitter.
'Strategic Plan 2020'
The American Gaming Association's guiding principles include a framework of four strategic pillars:
-Shape a favorable federal policy environment for regulated gaming by cultivating congressional champions, protecting industry interests on gaming issues and promoting core business issues of taxation, labor, health care and travel and tourism.
-Promote the social and economic value of gaming by proving the industry's value through research and elevating responsible gaming as a priority.
-Create a more favorable business environment in the states by driving regulatory reform and speaking as one voice to shape sound gaming policy.
-Leverage the power of the industry to build member value beyond advocacy by building new service offerings and adding day-to-day activities that educate, inform and coalesce members.