Nintendo Bottomed: What Happens Next – Seeking Alpha
Since suggesting that $25 would create a good entry point for buying shares of Nintendo (OTCPK:NTDOY), value investors will wonder if the stock has more upside after closing above $30. The strong initial sales of the Switch will give its shareholders confidence for growth ahead. The company already plans to show games on both the Switch and 3DS at E3 (Electronic Entertainment Expo). To target its advertising directly with the consumer, Nintendo is featuring Zelda and 1-2 Switch on over 100 GameTrucks. At the end of April, it will showcase MarioKart 8.
Game Changing Console
Waning demand and slowing usage of mobile games create a market opportunity for the Switch console. Further, whereas Sony's (NYSE:SNE) PlayStation and Microsoft's (NASDAQ:MSFT) Xbox require a connection to a television, Switch allows for gaming on the go. The Switch may win market share from both markets.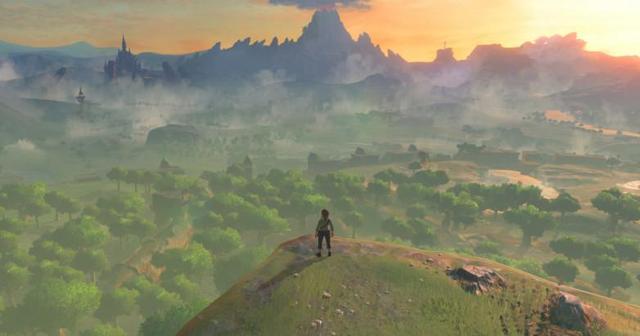 The dropping interest in mobile games is troubling for companies like Glu Mobile (NASDAQ:GLUU) and Zynga (NASDAQ:ZNGA). They rely on freemium games: games that are free to play but cost money for in-game upgrades. Even on that front, Nintendo charges an upfront one-time fee for its mobile games. Super Mario Run costs $10. Nintendo updated the free, iOS version so that it includes more free levels to play. Awareness for the Nintendo games will grow after the game rolled out on March 23, for Android devices. But besides Nintendo's mobile game apps, its Switch is the real game-changer for mobile gaming.
Zynga worked hard tweaking its Dawn of Titans game while Glu's Design Home may earn more revenue if in-app purchases rebound. Unfortunately for them, rave reviews for Zelda, like this 10/10 rating the game received, will lead to gamers abandoning mobile games. Besides, playing on the Switch will put an end to draining iPhone batteries while experiencing a fuller, more elaborate game play on the Switch.
Risk: Valuations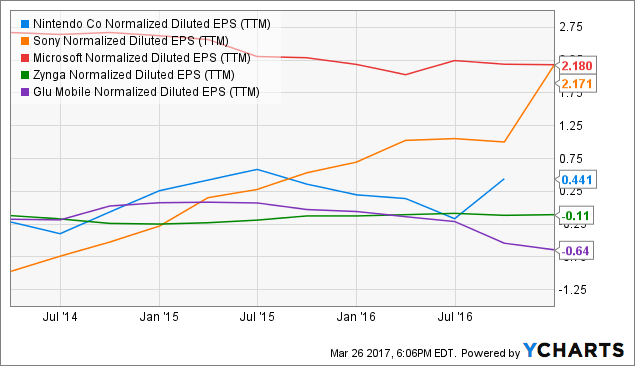 NTDOY Normalized Diluted EPS (NYSE:TTM) data by YCharts
Above: Zynga and Glu Mobile are still struggling to earn a profit. Nintendo was profitable last year even without Switch. The strong initial demand for the unit will lower the P/E multiples in the quarters ahead.
Nintendo earned significantly less than Sony and Microsoft. In the 9 months ended December 31, 2016, revenue dropped 21 percent to $1.57 billion (174 billion yen). On a P/E basis, Nintendo's stock is hardly cheap: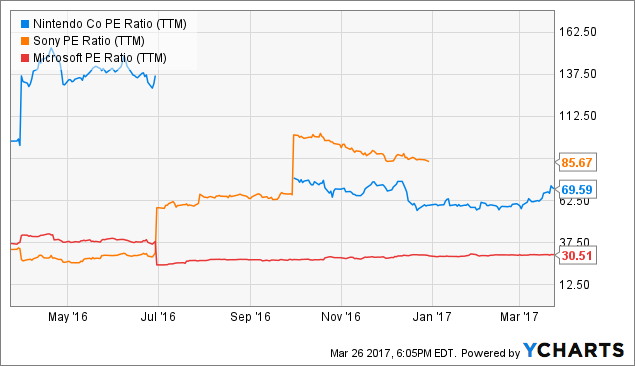 NTDOY PE Ratio (TTM) data by YCharts
Nintendo is scheduled to quarterly earnings on April 27. Investors should keep in mind that revenue will only include initial Switch sales, along with sales of the Zelda game title. As game makers ready more popular titles on the platform, Nintendo's revenue growth will accelerate.
Takeaway on Nintendo
After already returning 25 percent to shareholders, chances are good that the stock will continue trending higher. The company has a product road map that is conservative in growing market share for both the mobile game and console markets. Nintendo is releasing 2-3 games for smartphones annually. It continues to develop games for the 3DS. If Nintendo sells 20 million Switch units this year, the console will make $6 billion in revenue. At 6.2 times sales on the hardware alone (961 million shares outstanding), the company is valued similarly to that of Microsoft shares. There are some risks paying the premium on the stock. Still, shareholders should anticipate Nintendo selling many game titles for the platform in the years ahead.
Disclosure: I/we have no positions in any stocks mentioned, and no plans to initiate any positions within the next 72 hours.
I wrote this article myself, and it expresses my own opinions. I am not receiving compensation for it (other than from Seeking Alpha). I have no business relationship with any company whose stock is mentioned in this article.
Editor's Note: This article discusses one or more securities that do not trade on a major U.S. exchange. Please be aware of the risks associated with these stocks.
CommentsWrite a Reply or Comment:
You must be logged in to post a comment.