The 3DS, Nintendo's current handheld console, is six years old this year. Since its debut in 2011, over 60 million have been sold worldwide – sneaking it into the top ten highest-selling games devices of all time. In stark contrast, the Wii U has lifetime sales of just over 13m. The machine has, by most metrics, been an abject failure. Nintendo is an extremely rich company, but it won't want to repeat that experience. It has shareholders to think about.
The company's next product, the Switch, is being described as a hybrid of console and handheld. It's a concept the Wii U attempted to tap into, via its GamePad controller with built-in screen; most games could be played on this device alone, meaning that as long as you had power, you could theoretically play on the go. Of course, that wasn't ever part of Nintendo's marketing for the Wii U, and besides, it wasn't exactly ideal for portability – you had to lug the console, the GamePad and the power cable around with you.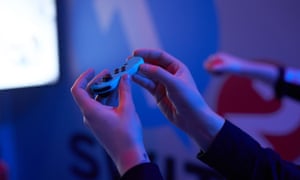 The Switch, on the other hand, is a self-contained unit with up to six hours battery life and it can be charged with a USB-C cable – a concession towards widely-available chargers that Nintendo has never made before. It runs on the same processing technology as a tablet computer, too, making it more geared towards being portable than the Wii U ever was.
A lot of people aren't convinced about the Switch – possibly with good reason. As Nintendo discovered with the Wii U, people want to see innovation without too much gimmickry, because the more quirky the hardware, the less likely third-party publishers and developers are to gamble on it. Supporting an idiosyncratic platform takes more effort, more research, and makes it unlikely that the projects will be portable to other machines. It's a huge risk – even for a major company like Electronic Arts or Activision.
But perhaps we're thinking about the Switch in the wrong way. As a home console, it's disappointing: the launch line-up is sparse, the pricing is surprisingly high, and the Joy-Con controllers are weirdly tiny little objects that don't seem designed for comfortable play at home.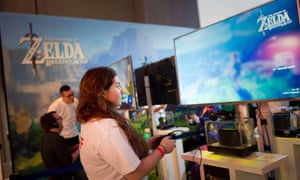 However, as a handheld console, it's something of a revelation – and it's from this perspective that we should really be viewing the Switch. With the possible exception of the NES and SNES, Nintendo has always been better at handhelds. The Games & Watch series popularised the idea of the handheld electronic game in the early eights, while the Game Boy and Nintendo DS are the second and third best-selling consoles of all time, with over 260 million sales between them. The company's biggest brands, Zelda and Mario, translate fantastically well to smaller screens, while purpose-built handheld titles like Fire Emblem Fates, Animal Crossing, Monster Hunter and Pokemon are brilliantly conceived as travel companions.
So imagine a handheld that works just like the 3DS, but better. Up to eight consoles can join a local network, so you're getting quite powerful ad-hoc multiplayer options. Plus, its removable controllers mean you're not tied to keeping your hands in one position, so it's likely to be more comfortable – this element may also mean the machine becomes a family holiday gadget, with multiple players taking part on one small easy-to-pack screen (titles like 1-2 Switch would work well like this). The fact that the console is powerful enough to run games that you'd usually see on larger consoles – like Skyrim and the new Zelda, Breath of the Wild – means that it will also be possible to play highly ambitious, open-world adventures on the go. That's never been possible on this scale before.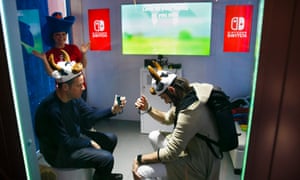 The Switch, then, is most exciting as a handheld that's powerful enough to take home, rather than "a console you can take with you". The Xbox One and PlayStation 4 have the home market cornered. If you want to sit at home playing epic adventures or online multiplayer shooters, the Switch is unlikely to compete. But having a piece of technology that can conceivably provide the same experiences as those consoles wherever you are is the next logical step for a society that is constantly trying to multitask. These days, we play games on transport because it's the only time we have where we're not doing anything else. Playing them at home means loosing time with family, friends or that incredibly demanding Netflix subscription. Of course, we can play games on phones, but then we're being constantly bombarded with other temptations and notifications. The 3DS is, in contrast, pure joy: no emails to check or social media to browse. Just games.
If the Switch can be more like that, with the games line-up to bolster it, then Nintendo will find its audience (even if that audience waits a year for the inevitable price drop – £280 is very expensive for a handheld). Populating the release schedule with successful handheld games like Ace Attorney, Animal Crossing and Pokemon, will help, as well as hopefully encouraging third-party developers to understand what the console is supposed to be and get on board.
For now, we have to wait for a better idea of what the Switch is supposed to be, and how Nintendo intends to support it in future. Market analyst IHS Technology is predicting sales of 4m in 2017 – how may of those people will be looking for a console and how many a handheld? Giving the latter audience the power of the Wii U with the incredible game library of the 3DS could be the wiser course of action – and the shot in the arm that Nintendo's hardware business needs.